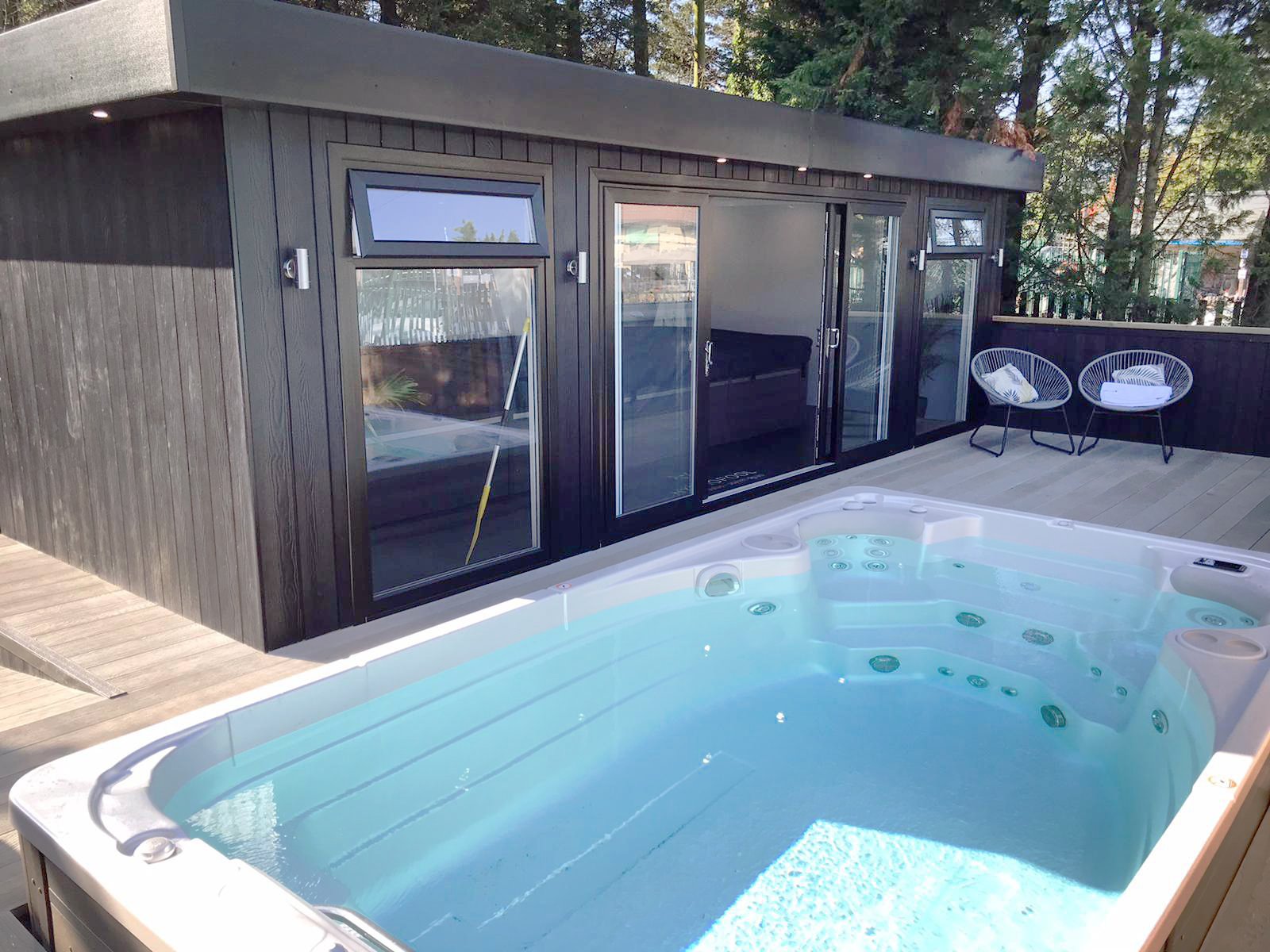 Your Hydropool Swim Spa – An Alternative To The Gym Or Leisure Centre.
A prospective client called recently to say that he was considering replacing his monthly gym and leisure pool membership with a swim spa for his home. He had done the maths and the numbers worked out, but he wanted to know how efficient a swim spa would be - both in terms of the quality of his workout and the energy needed to run one.

1. The Perfect Daily Swim
As far as the quality of your workout, your Hydropool Swim Spa has been designed with physiotherapists & sports professionals.
In many ways, a Swim Spa, by Hydropool, is the perfect way to swim every day.
At the leisure centre's pool, you lose a degree of workout efficiency every time you reach the end of the pool, have to turn around, touch the side and push off again. With a Swim Spa, there's none of this – just imagine a swim that lasts for as long as your stamina!! An infinite length!! Focus on your stroke technique, your breathing and enjoy the (pun intended) fluidity of the swim rather than bashing into the side of the pool.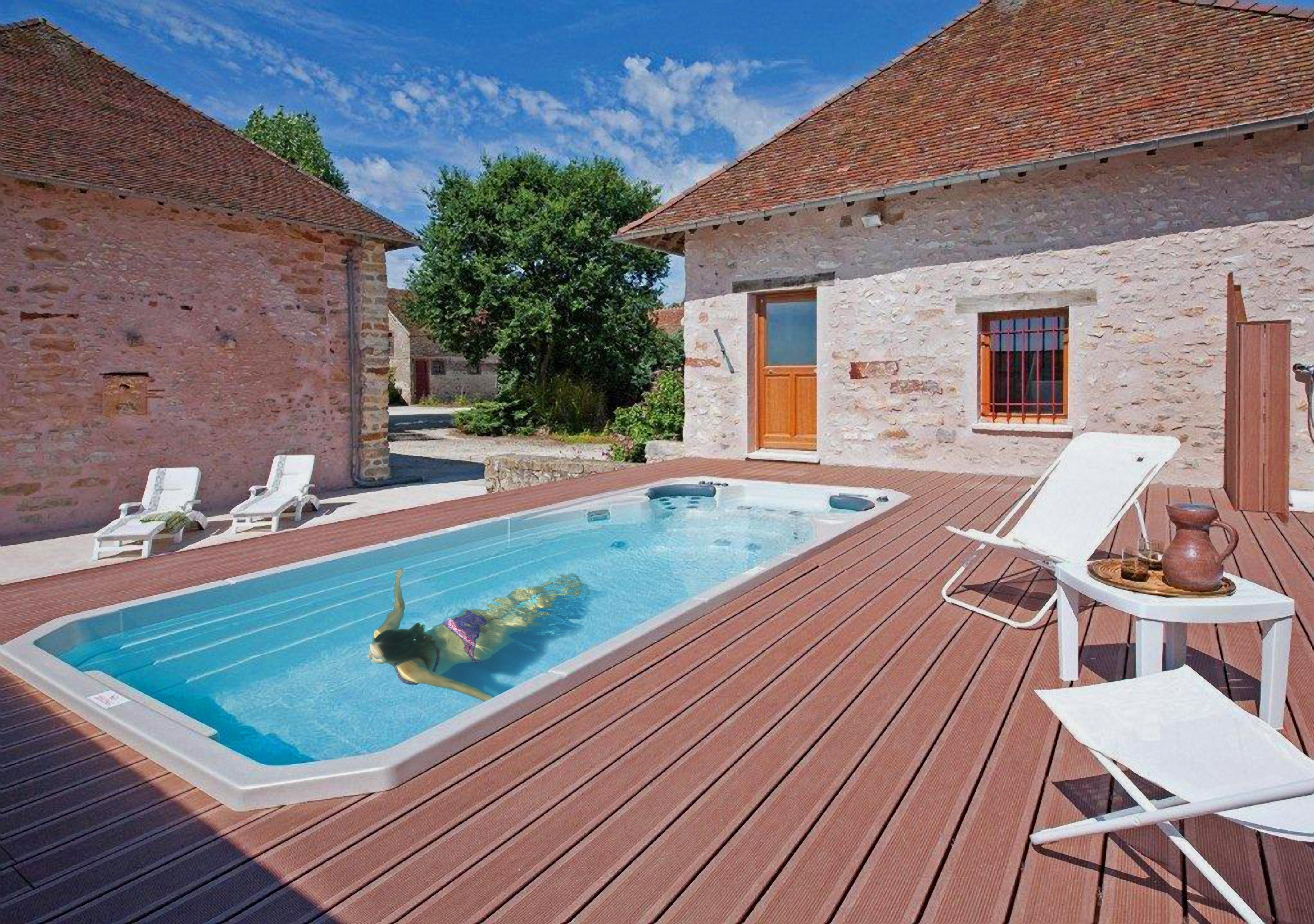 Also, you can set the swim current to the level of your personal swimming capability and so easily alter the intensity of the workout.
Hydropool's AquaFlo Swim Jet Design generates a wider, deeper, smoother current than any other swim spa and your tank has been designed so that there are no hidden obstacles, like steps or benches for your feet to hit in the swim lane – giving you a far superior swimming experience and more efficient workout.
Plus, every purchase comes with a complete exercise programme specifically designed for your Hydropool Swim spa. Your four-part video series caters for all needs, from beginner to intermediate to advanced, and the cardio section will deliver great results to your fitness levels. Designed for all ages and all fitness levels, the aquatic exercise you will get from your Hydropool Swim Spa will build cardiovascular stamina, strength and flexibility, improve circulation and burn body fat.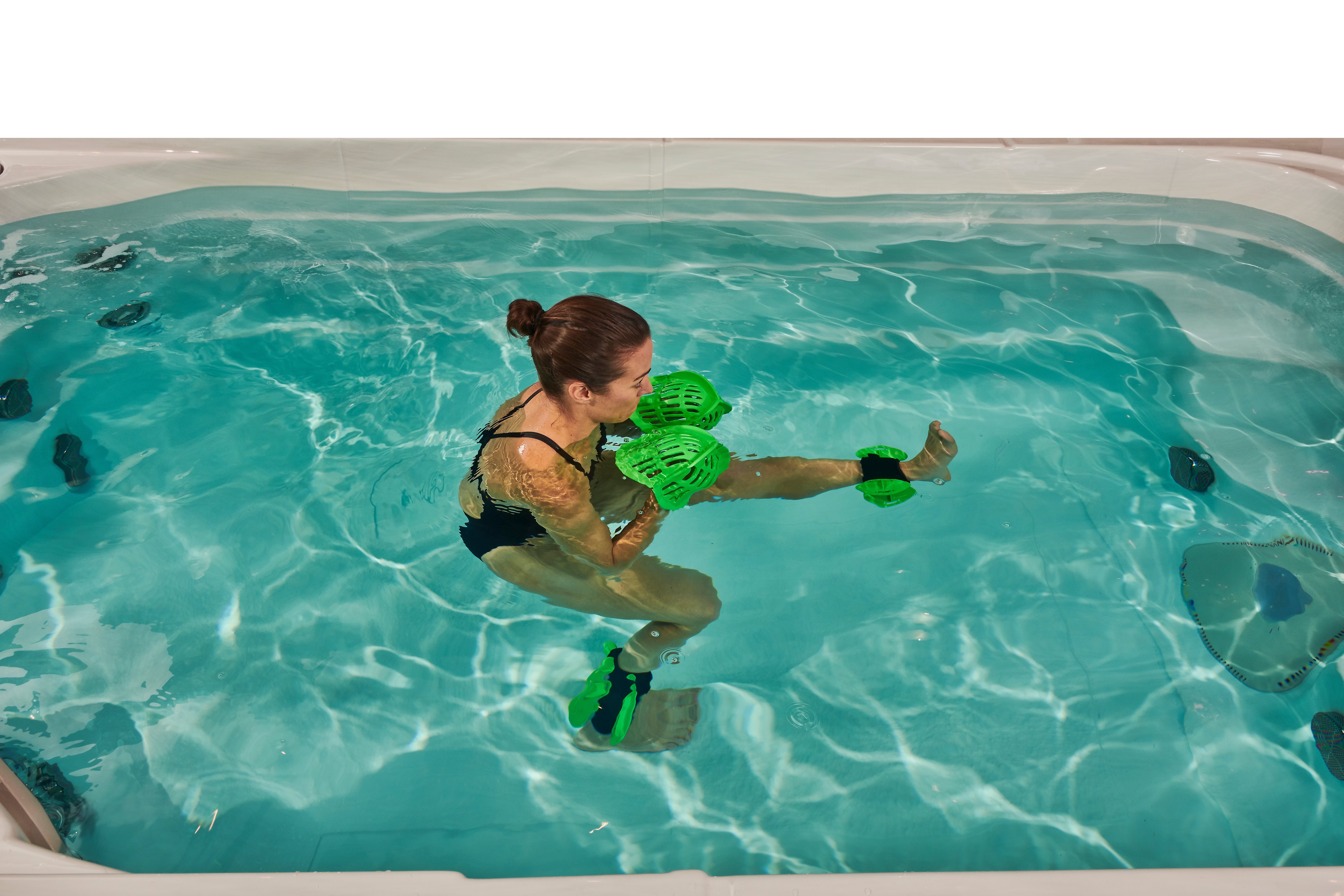 Beyond a great cardio workout, your Hydropool Swim Spa can also deliver muscle toning exercise work outs too. Ask us about how to do a chest press or an aquatic bicep curl with tether bands or a shoulder lateral raise with dumbbells all in the warmth and comfort of water heated to your preferred temperature.
Aquatic exercise is non-weight bearing, buoyancy prevents joint stress, your Hydropool Swim Spa provides the perfect low impact exercise solution for achieving great fitness results.
2. Hygiene – As Clean As The Most Exclusive Health Club Pool
The great thing about a swimming pool at a leisure centre or health club is that you know the water is hygienic. There are strict rules about this and the water is tested regularly to ensure compliance.
The good news is that this peace of mind has been designed into your Hydropool Swim Spa too. They're called "Self Cleaning Swim Spas" for a reason!
All Hydropool hot tubs and swim spas filter 100% of the water in just 15 minutes. Not only does this mean that the Hot Tub or Swim Spa does not have to be operating as long to filter the same amount of water as other hot tubs, it also means that the water in your Swim Spa is as clean as the water at the most exclusive health club.
Furthermore, Hydropool hot tubs and swim spas have one of the most energy efficient filtration systems in the world.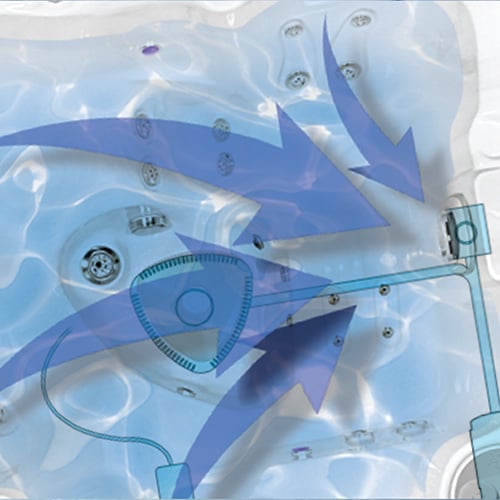 3. Setting The Standard for Efficiency
Hydropool are ranked in the top 3 spa manufacturers in the world for energy efficiency and stand-by wattage use, indeed, Hydropool were among the first spa manufacturers to be approved under strict California Energy Commission regulations!
The technology in your Hydropool Swim Spa is inspired by NASA, Triple Thermal Shield Technology (pipes, cabinet and floor) work together to retain heat. The reflective foil side of the Thermal Shield reflects the heat back into the hot tub or swim spa and the black side of the Thermal Shield and pipe insulation is designed to absorb heat.
Then, the insulating, heavy duty, hard cover locks in this heat. The cover is 4 inches thick at the centre, tapering to 3 inches at the edges to allow rain run-off. Heat and energy efficiency is designed into the DNA of every Hydropool, but then they are designed for Canadian winters where temperatures can drop as low as -40°c!!
4. The Full Service
Hydropool are the leaders within the swim spa industry with 40 years of experience in swimming pool and hot tub technology, there is clear water between us and our competitors in terms of technology, design and service.
Hydropool Midlands' parent company is Cabin Master, a UK based manufacturer of timber garden buildings, with a 25 year history of its own. This unique combination allows us to design and build purpose pool and spa rooms, rather than just sell you a swim spa, we will help you to create the perfect experience.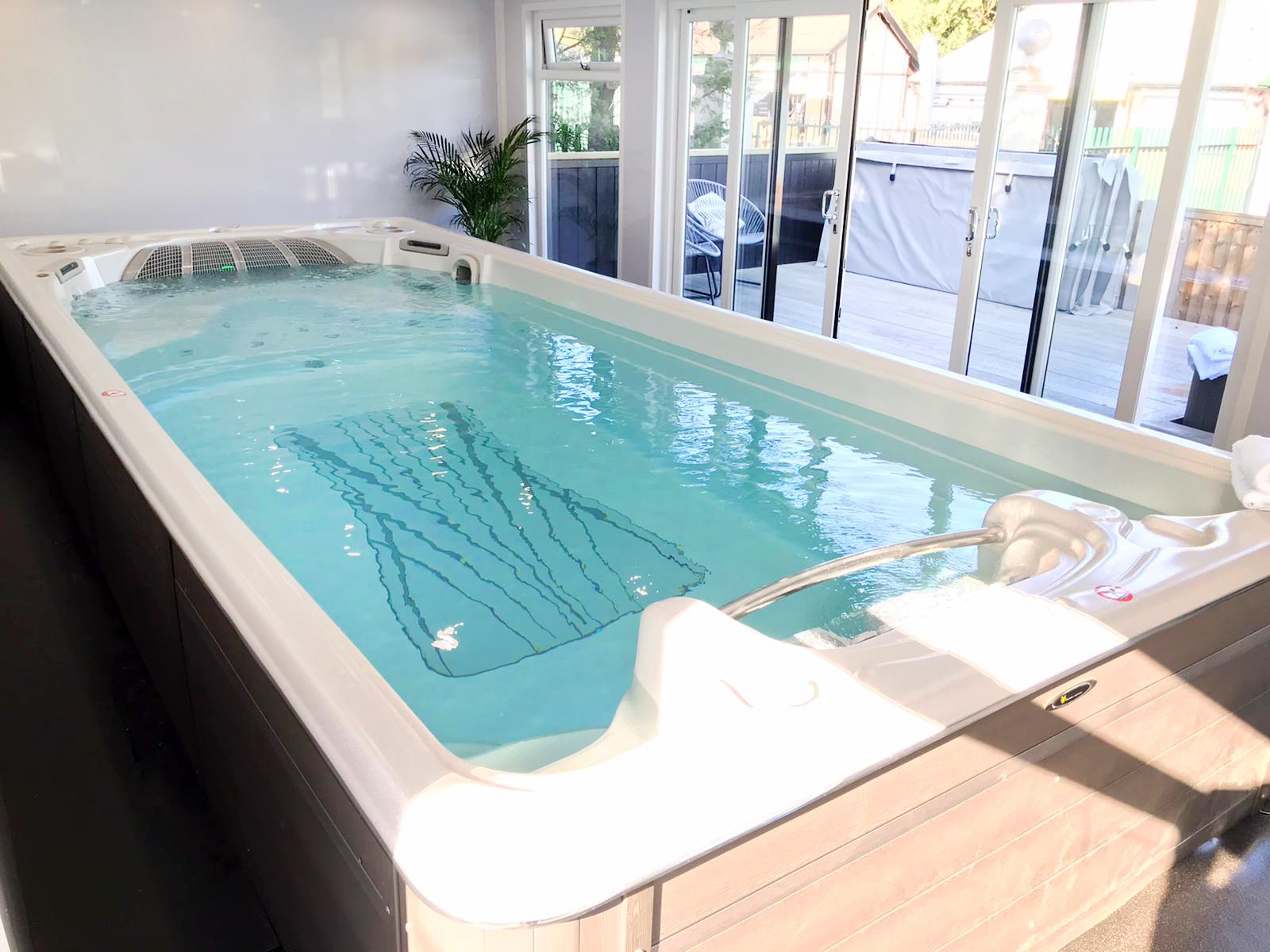 5. An Investment In You
Whether it's our market leading 19ft Executive trainer, Europe's biggest selling family model, the14ft Aqua sport, or any of the other models in the extensive range, a Hydropool Swim Spa is an investment in your health and wellbeing.
You'll find that, by not having to head to the gym or the leisure centre to swim, your aquatic workout will soon become a habit and great results will quickly follow. Use the time you'd usually spend driving to the health club to extend the duration of your usual swim and you'll see tangible, measurable results in weeks. All without leaving home