Time To Reconnect
Just 10 minutes each day of reconnecting with your husband or wife can do wonders for your marriage! Having a hot tub will do exactly that - it'll give you the gift of time together (or alone!). A hot tub is a dedicated space where you can reconnect with yourself or loved ones, which is so vitally important for our mental wellbeing and can vastly improve our quality of life.
A hot tub gives you time away from your phone or laptop. A hot tub allows you headspace from feeling like you should be doing the washing or ironing. A hot tub gives you beneficial massage to help you relax, unwind and ease muscle tension. A hot tub is your own private getaway, that place where you can let your hair down and relax, to socialise with your family and friends, a place where you can unwind and stretch out!
With today's hectic lifestyles, water and spa therapies have taken on greater importance, offering a natural and effective way to relax and reduce stress.

Start Your Day Off Right
Getting into your Hydropool hot tub in the morning will start the day off right, your circulation will improve, your muscles will feel relaxed your mind will feel refreshed to start whatever lies ahead for the day.


Relax & Unwind
Laughter is the best medicine! Get ready to relax and enjoy life much more, in your Hydropool hot tub. When you're relaxing it becomes much easier to converse, laugh and smile and share intimacies. Hydropool hot tubs are a great way to entertain guests and create memorable occasions.


Soothe Those Tired & Aching Muscles
Soaking in the warm water of your Hydropool hot tub will result in collagen tissue becoming much more flexible which will benefit those with arthritic symptoms. Medical experts have advised relaxing in your Hydropool hot tub several times a day to relax muscles and joints to remedy arthritis and other joint and muscular problems. The stress and muscle tension relief provided by hot tubs has allowed those who suffer with migraines to claim their headaches reduce in frequency.


Sleep Better (No More Insomnia!)
Drift off to sleep before you even get to counting any sheep! No doubt your hot tub session will free your mind of any troubles of the day. You'll allow yourself that much-needed headspace, meaning there's no room for busy thoughts when it comes to getting in to bed! The warm water in your hot tub will improve your blood circulation and promote faster lactic acid removal which will leave you feeling much more relaxed and in turn will result in a much better night's sleep. By raising your body temperature in the hours before you head to bed, the cool down afterwards will promote blissful and restful high quality sleep.


Why Choose A Hot Tub From Hydropool?
Hydropool hot tubs have worked with medical experts which have allowed us to create much more ergonomic designs for jet positioning and comfortable seats and loungers. You'll be able to have customisable therapies, allowing you to tailor your hot tub experience exactly how you like it.
Download our buyers guide here to find out more! https://blog.hydropoolmidlands.co.uk/hot-tub-buyers-guide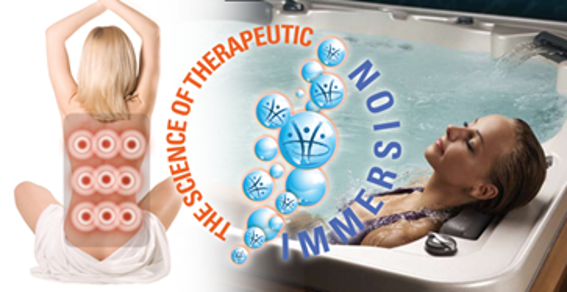 Our best-loved features of our hot tubs include:
Our Self Cleaning Range of hot tubs clean the whole body of water every 15 minutes.
Therapy Seats have fully adjustable jets and have positions to allow a full body massage.
The Serenity range is a modern design with much more open seating to ensure everyone is fully comfortable .
Adjusting Air Massage jets give gentle massage which is an invigorating pulse that will relieve body and muscle aches.
Our advanced technology double wrapped Thermal Shield insulation system meets the California Energy Commissions Standards, making our Hydropool hot tubs the most energy efficient hot tubs in the world.
The full Hydropool hot tub range comes in a range of sizes of fit all spaces and for families big and small - for the larger families we have models which seat upto 10 people.
Hydropool is the market leader for Swim Spas so as well as offering our luxury hot tubs we have something ideal for swimming and home exercise.



Our Experience Speaks For Itself
Hydropool Hot tubs have been creating more time for what matters for over 40 years, and we're proud to have Hydropool hot tubs installed in 60 countries worldwide. Our dedication to listening to customer feedback and our colleagues mean innovation and continuous improvement has enabled us to create the finest products in the industry. With our constant strive to improve our already market-leading product and give the user the most enjoyable experience with minimal maintenance.


Let Us Help You Choose Your Perfect Hot Tub
At Hydropool Midlands, your personal adviser can ensure you select the right hot tub from the Hydropool range which best suits lifestyle and budget.
We offer a full hot tub installation service. Whether you choose to have your hot tub sunken within beautiful landscaped decking, or perfectly installed in a dedicated pool room building (built by our sister company Cabin Master, of course!), a Hydropool hot tub will give you great times to enjoy for you and your loved ones.
To understand our full hot tub range and the benefits we offer, please contact us. We offer free home visits to survey your garden or intended location, along with access to your property. Request a copy of our FREE hot tub guide here!